Sarah Geronimo This I5 Me Live in Las Vegas U.S. Tour , April 29, 2018 Cannery Casino & Hotel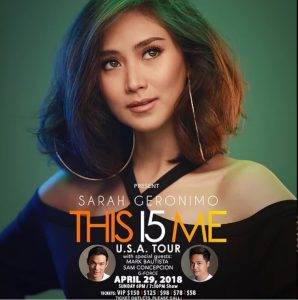 2018 US Tour!
with Special Guests
SAM CONCEPCION and
MARK BAUTISTA
and featuring the
G-FORCE DANCERS
Apr 29, 2018 |Cannery Casino & Hotel
The ultimate Pop Star is celebrating 15 Years of Music that defines our generation. Sarah Geronimo This I5 Me Concert of the Year 2018 invades the U.S.
The Filipino pop icon will rock the rock of the Los Angeles Theatre in Los Angeles, California on April 29. Tickets are available online via our partner www.discountstub.com who are processing all our concert online sales. Discountstub.com is a trusted reseller of all concert tickets.
Concert Details:
What: Sarah Geronimo This Is Me U.S. Tour 2018
When: April 29, 2018, 7:30 P.M.
Where:  Cannery Hotel & Casino
              2121 E Craig Rd, North Las Vegas, NV 89030
Producer: Hesser Entertainment            
Contact Usapang Pinas for further questions before or after buying the tickets: 
                                 Call Toll Free 888.881.1848 
                                Call\Tex 213.448.4059

SEATING CHART: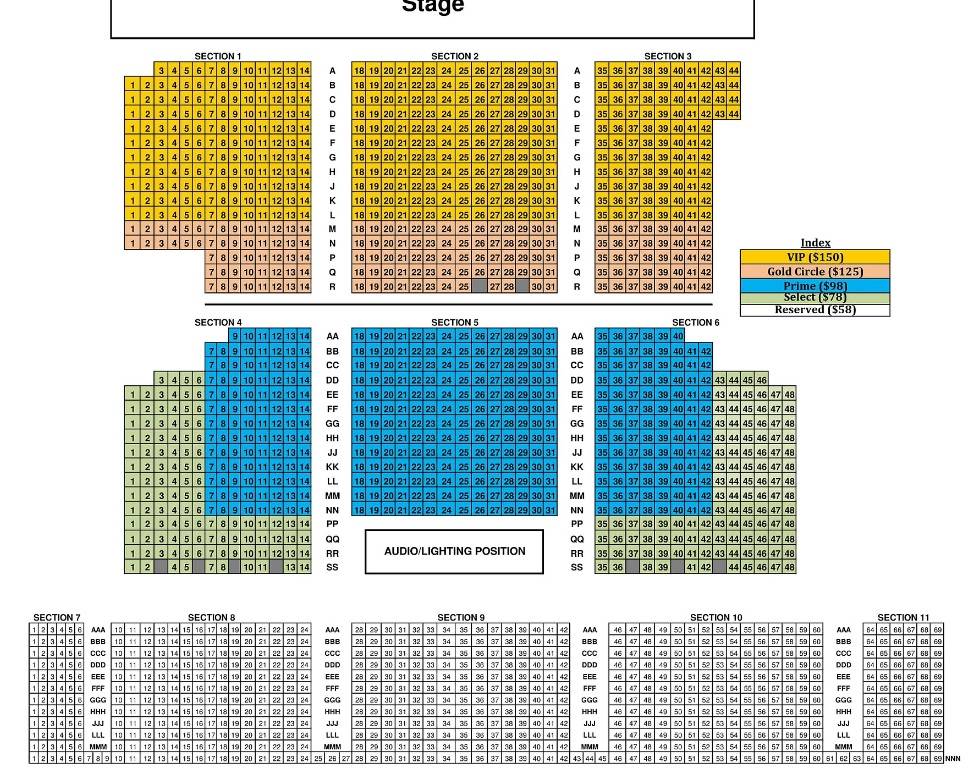 Sarah Geronimo is a Filipino singer, actress, and television personality who was born July 25, 1988. Her contributions to music along with her film and television work has made her a local figure in popular culture of the 2000s to 2010s in the Philippines.
Sarah Geronimo was Born and raised in Santa Cruz, Manila. She started a career in music at the age of 14 after winning the television singing contest Star for a Night. She then signed with music label Viva Records and rose to fame with the release of her debut album Popstar: A Dream Come True (2003), which yielded the success of her most recognized single "Forever's Not Enough". The album became a multi-platinum record and won two Awit Awards. Her music was consistently categorized as pop until the release of her tenth studio album Expressions (2013), when she added R&B and dance into her style. Following a crossover success, Geronimo continued on the same musical form and eventually achieved two consecutive Album of the Year prize from Awit Awards: Perfectly Imperfect (2014) and "The Great Unknown" (2015).
Geronimo began working with television network ABS-CBN in 2004. She appeared in projects such as ASAP (2004–present), Bituing Walang Ningning (2006), Sarah G. Live! (2012-2013) and a coach in The Voice of the Philippines (2013 to 2017). She also ventured into mainstream cinema and is best known for playing the lead role in the films: A Very Special Love (2008), You Changed My Life (2009) and It Takes a Man and a Woman (2013). She received a Box-office Queen award from GMMSF Box-Office Entertainment Awards for each of these films and two nominations of FAMAS Award for Best Actress respectively.
Throughout her career, Geronimo has received 12 Awit Awards, 8 Aliw Awards, 26 Myx Music Awards (the most in the awards history) and a FAMAS Golden Artist Award.
for her This 15 Me concert tour. Geronimo won Star for a Night at the age of 14 and has released a string of successful singles since, including "Forever's Not Enough" and "Tala." Joining her in what's being billed as the biggest Filipino concert of the season are popular singers Mark Bautista and Sam Concepcion with the G-Force dancers. Don't miss this blockbuster night of music and dance!
Facebook Comments - Click On The Comment Box. A Small Box Will Appear. Check That Box That Says "Add Post To Facebook".