It's party time in HOLLYWOOD, California.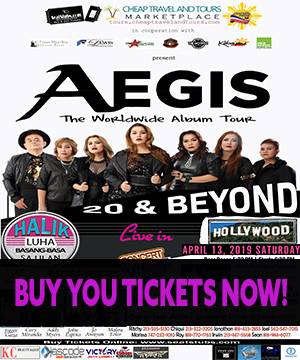 We are celebrating The Aegis Band 20th Anniversary at the Hollywood Walk of Fame at the historic "Avalon Hollywood" landmark located between Vine St. & Hollywood Strip. It's gonna be a more exciting and exhilarating get together of the Aegis Band fanatics who have been supporters for the past 20 years and counting. It's not just a concert. It's a Big "CELEBRATION" and an iconic event you don't wanna miss.
After celebrating their 20th Anniversary with a world tour, the Aegis band is back in the US with their 2019 "The World Wide Album Tour". This is after the success of their 20th Anniversary concert in 2018. Due to time constraint, Aegis had limited states to perform. They only had Chandler, Arizona on Nov. 30, 2018, Cache Cree, California Dec. 7 & 8, Columbus, Ohio Dec 9 and Hawaii Dec. 16. They needed to be back to the Philippines to celebrate Christmas with friends and family. They did two shows in Cache Creek. Fans were requesting for a third show but unfortunately, a third show was not possible. Aegis fans from various U.S. states were persistent and so now, Aegis is will finally be back for an extension of their Anniversary Concert Tour this 2019.
For the Los Angeles concert, fans will be given a chance to meet and greet with their idols with a Super VIP ticket. The seats are limited so you have to hurry and buy your S-VIP tickets ASAP. This intimate moment with the Aegis is a giveaway to fans, a way of saying "Thank You" for the undying support for the past 20 years and more to come. This is purely bonding with the Aegis. Selfie-Selfie, jamming-jamming with the members of the Aegis. You can talk with them or ask questions.
Buy Now to secure your tickets.
Ticket Information: Limited Seats available. Buy your tickets now to secure your seats.
Super VIP $120 + Fees – Limited Seats
VIP $108 + Fees – SRO w/ Limited Reserved Seats
VIP $108 + Fees – Standing
Orchestra (Upper Level) $78 + Fees – Limited Seats
Opera Box $78 + Fees
Balcony $58 + Fees – SRO w/ Limited Seats
Event Detail:
Artist: The Aegis Band
Event Title: Aegis – The 20th Anniversary Worlwide Album Tour Extended
Event Date: April 13, 2019 Saturday
Avalon Hollywood: 1735 Vine St, Hollywood, CA 90028
Contact: 213.448.4059
Facebook Comments - Click On The Comment Box. A Small Box Will Appear. Check That Box That Says "Add Post To Facebook".