UP Dharma Down Live in San Diego March 9 2018 US Tour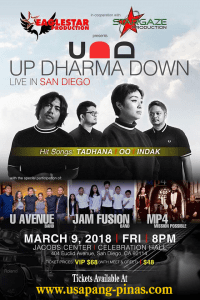 You can now watch your favorite artist Up Dharma Down (UDD) live in the U.S.A. for their  first ever U.S. Tour 2018.
UDD is a Manila-based band that has taken apart and interestingly combined musical boundaries in their songs.
Event Details:
What: Up Dharma Down 2018 U.S. Tour San Diego
When: March 09, 2018, 8:00 p.m.
Where: Jacobs Center Celebrity Hall
404 Euclid Ave, San Diego, CA 92114
Producers: Stargaze Productions
                                                             Eagle Star Productions
Contact : Usapang Pinas
(213) 448-4059
Facebook Comments - Click On The Comment Box. A Small Box Will Appear. Check That Box That Says "Add Post To Facebook".